What To Wear Hiking: Hiking Outfit Ideas For Men
Planning a hike, but don't know what to wear? With just a few basic hiking outfit ideas for men, you can be fully prepared to get on with your journey. As long as you're in to catch all the fun that the experience will bring, you certainly should read through this awesome collection that we've made.
Ever had that moment when all you did was wonder, "What is the best outfit for hiking?" Maybe you've experienced having your clothes ribbed by twigs in the woods, or some insects thought your skin to be the best place to reside, or you're entirely new to the experience and really don't want to have a rough experience with your hiking clothes. We all get that.
Here, we've made a detailed list and description of the best hiking outfits for men and the best time to wear them. If all you want is just to get your hands on the best outfit to wear when hiking, then you're in for a treat. We narrowed our selections to just five picks that you can't do without when going on a hike. Keep reading!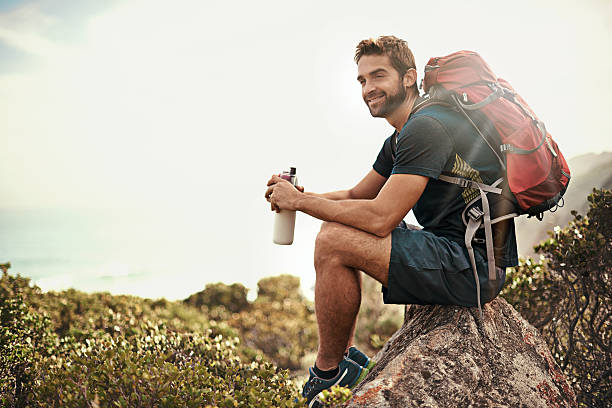 Table of Contents
Hiking Outfit Ideas For Men
Your hiking clothes, shoes, hats, and accessories can greatly impact how fun your hiking journey will be. If you don't feel comfortable, you may not make it to the end of the hike, and with comfort comes a more memorable experience. To help you focus on the path ahead and possibly explore new terrains, here are some hiking outfit ideas for men that you should definitely put on a checklist:
Hiking Tops for Men
While it is not always easy to select the perfect hiking clothes for men, dressing the part when you're going on your hike can help hit the trails with an elevated vibe. In this section, we detailed some of the fashionable hiking selections that can make all the difference in your experience. Stay with us!
Insulated Jacket:
This insulated hiking gear can be functional when it's cold outside and can protect you from bugs, mosquitoes, and other insects especially if your hike is on a bushy path. If you would be hiking late into the night, then it would be ideal to wear a hiking top in a bright shade.
Comfy Cardigan:
The perfect alternative to the insulated jacket will be a wool cardigan. Unlike the former, they are lightweight, easy to carry along and/or pack in your backpack, and can keep you comfortable even in the worst weather conditions. You can wear this cardigan as the final layer of your ensemble especially if you're trying to prioritize warmth and comfort in your clothes.
Turtleneck Long Sleeve Tees:
A very functional mid-layer you can wear with your hiking outfits will be the very famous turtle neck tees. It gets even better when you choose the options with long sleeves. They can be your trusty tee or a sturdy shirt depending on the weather and how you choose to wear it. Needless to say, they can also function as a sweatshirt without discounting style or comfort.
Hoodie:
Beyond the walls of your sitting room and the coziness of your bedroom, here's an outfit that should make it out of your wardrobe and into the great outdoors. There are different hoodie styles for men that are great for hiking with the half-zip hoodie, pocket hoodie, and no-zipper hoodie as the trendiest styles. And if you love wearing matching outfits, then you can wear your hoodie just the way you like it.
Windproof Hiking Outfit:
This put-together look can be the perfect fall hike outfit for you. We all love this fleece windproof vest because it's impenetrable and also an ideal layering piece.
Chunky Knit Sweater:
To seal in all the warmth you can afford when going on your hike, opt for a knit sweater in a neutral shade. That way, it will be easier for you to combine it with various hiking outfits to create a fascinating look on your hiking experience. You can choose to wear a stretchy sweatshirt underneath, then a full zipper puffer jacket over it. For your bottoms, opt for some cozy sweatpants or cargo pants, then step into some waterproof hiking boots to complete the look.
Nylon Jacket:
A jacket made from 100% recycled nylon can be the perfect rainproof jacket that takes you through all the seasons of the year. Some nylon jackets for hiking are constructed with three layers of fabric so you don't need to wear three different outfits in your ensemble. If you're unsure about the weather, you can wear your trustee tee underneath, so you can pull off the jacket when it gets very hot.
Hiking Bottoms
Whether you're a once-in-a-while trekker, a hiking enthusiast, or a hardcore hiking geek, there are different hiking bottoms at budget-friendly prices to take your hiking experience to a whole new level. There are lightweight casual pants and joggers that you can wear when hiking in the woods in summer, cargo shorts and short shorts for a hike around the blocks, water-repellent nylon pants for a non-freezing winter hiking experience, and cargo pants that you can adapt to your taste on all your hiking expeditions.
Hiking Hats
You certainly don't have to break the bank to wear a perfectly cozy hiking hat. You can opt for the comfy beanies to afford you all the warmth you can imagine in summer, cool sun hats to shield your face from the sun rays, and casual baseball caps when you just want to wear something stylish on your head.
While beanies are mainly worn for warmth, a stylish one can amp up the look of your overall hiking clothes. When choosing athletic caps, it would be ideal to choose caps with more structured and technical fabrics as they tend to last longer than the very loose ones.
Hiking Shoes
When it comes to men's hiking shoes, there are lots of amazing options that you can explore. If you're in for a boots vibe, then you should consider water running shoes, gore-tex boots, and the more structured trial runners. If you love some boots with an edge, then you should consider hiking boots with suede corners.
If you want footwear that is more loose and even more comfortable for your toes, then you should opt for hiking sandals. While they may be good for climbing the mountains, you may have to watch out for those twigs and bushy greens. Whichever hiking shoes feel comfortable to you, ensure the sole isn't slippery, has good stability and grip, and offers some flexibility to your foot; especially if you are trekking on wet slopes and in winter.
Hiking Socks
The tougher the socks, the better the experience. The best hiking socks are usually the ones that cushion your feet and don't rip or form holes when you wear them for long-distance trekking. Your regular lightweight socks can function as hiking socks, but it's best to wear them in summer for their breathable effects, but certainly not during the cold seasons.
Concerning sock lengths, it's up to you. If you intend hiking on a bushy path, then you may need to wear long socks with long pants so that creepy crawlies don't get to your skin. If it's cold, then you may have to focus on bulk and not on length as your pants will definitely be long and cozy. For summer and when it's hot, feel free to wear whatever length fuels your fire, however, shorter hiking socks may be the best bet.
Bonus Tip: Hiking Accessories
A few extras you may need to add to your list of hiking outfits for men, just so you don't forget them would be your backpack, hydration packs, trekking poles, sunglasses, and sunscreen. They are as important as your hiking clothes and can greatly impact your hiking journey, regardless of how suitably you dress.
Conclusion
There you have it! From the cozy hiking jackets and cardigans to the hiking accessories that you think you need, these are the basic outfits you need to wear to create memories that you will continue to cherish for years to come.
Disclaimer: Credits for all images used in this post and on this site go to their respective owners. Eucarlwears in no way claims ownership of any image unless otherwise stated. Also, we use Amazon links so we might get commissions for purchases made through links in this post.